So last summer I produced a lovely little short film (written, directed and edited by Jamie "I Am Tim" McKeller) which was released on YouTube in October. Why am I telling you this now, you yell risibly into my bleeding ear canals? Well, there are two answers:
1). I plum forgot to blog about a single part of that process, bewilderingly. Yes, I'm that good at this self-promotion business.
2). It was screened a couple of days ago at the Up North film night at the White Cloth gallery in Leeds, to an apparently packed house of about 200, AND it won the inaugural People's Choice award.
Which is pretty neat. The award's no Picard-headed statue, but it's got a certain rickety charm: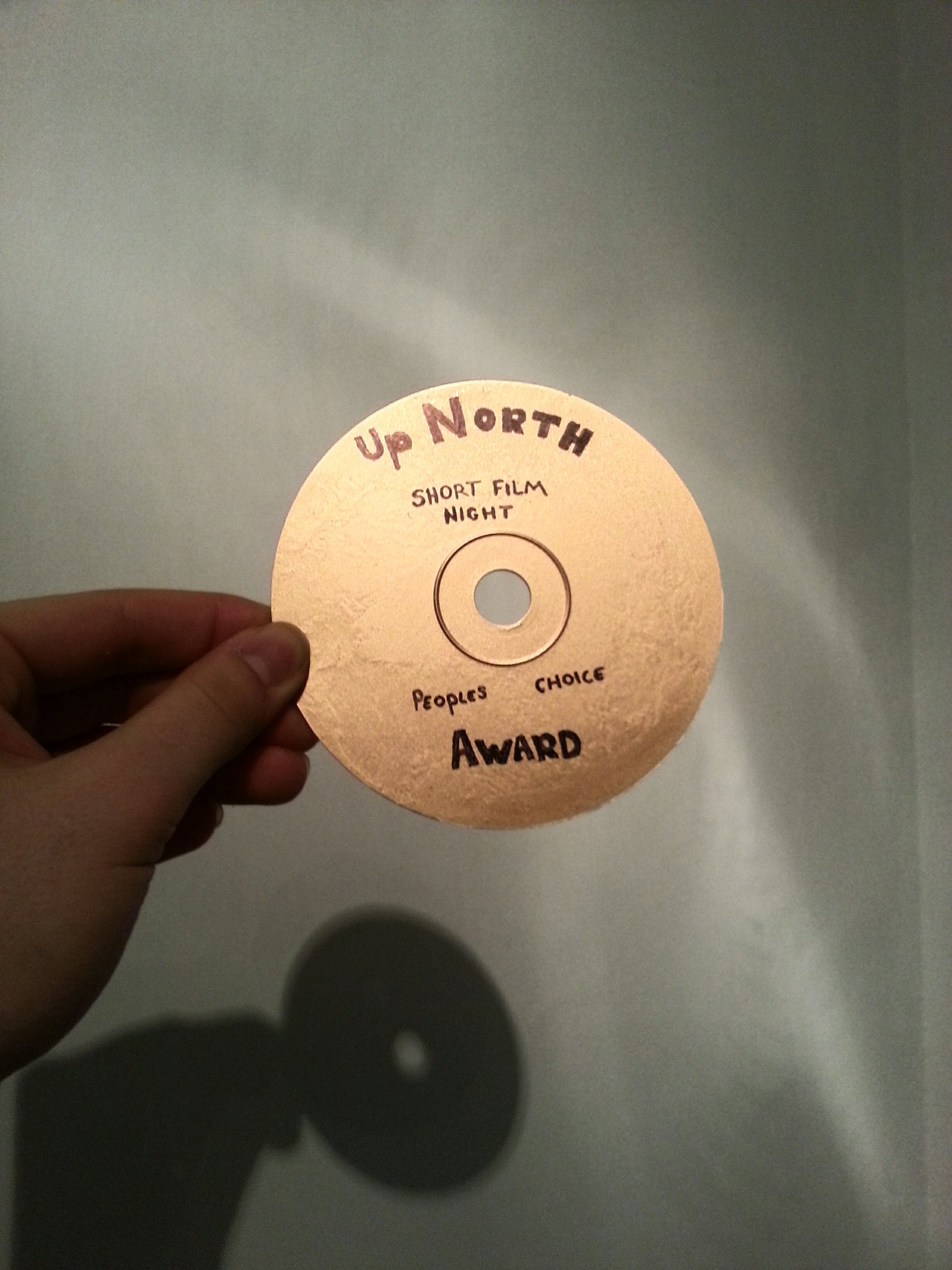 Unfortunately I wasn't there to see the reaction, but it was either train fare to Leeds or eating this week, and I do so love the bittersweet taste of life.
The film's called Hooped, and it looks a bit like this:

Hope you like it.
A giant chunk of the credit goes of course to Jamie and the film's two stars, James Rotchell and Anna James, who all took a fun idea and made it not only hysterical but also (I don't care if it's corny, I'll say it) heartwarming, but it wouldn't be the same thing without the contributions of everyone involved, who sometimes get pushed aside when the accolades come a-callin'.
Michael Howe and Sebastian Synowiec (who makes an unfussy but enjoyable cameo the eagle-eyed among you may spot) kept us all on track as relay assistant directors – just when you thought you'd gotten rid of them, another comes out of the woodwork to make sure you've finished the job you're on ten minutes ago. Delicate souls, them.
Chris Atkinson, who had a large part in getting Dead Man Working made all those moons ago, did a great job of capturing the summery, sepia-tinged feel Jamie wanted as our director of photography, and the ever-dependable Natalie Roe was on hand for camera assisting and general cheeriness. Who doesn't want that on a set?
Nat was there at the screening along with Jennifer Jordan – I Am Tim's Anna (she was also in a little-known work called Pieces Falling Into Place), general stand-up gal and inarguably the main reason for Hooped's success that night, being that she was the one who submitted the film in the first place. I suppose it helped that it's a cracking little movie as well. So yeah, thanks, Jen – you rock.
And me? Well, I did what any producer does to get the film made, really: buy people drinks and say things like "We definitely don't have that in the budget".